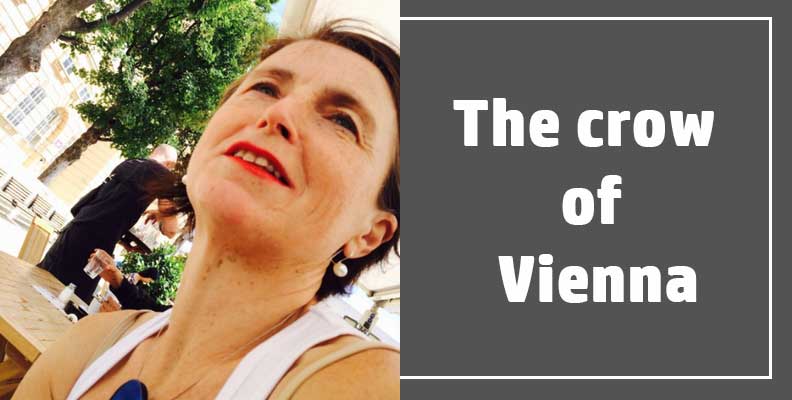 Crime as a Service: Be careful who you trust
As kids, our parents would always say to us, "don't talk to strangers." This is how they reminded us of the harsh reality of the world we live in where people use others' vulnerability to their advantage. Even as grown ups, we are not immune to such reality. So when we're on our own, who will remind us to be wary? Or perhaps, could it be that we should be reminded not to become the very people we were warned to stay away from as kids?
The world is full of bad people. Killers, thieves, liars—they're everywhere. It's just the truth of the matter. Fortunately, there are also good people. Those who are kind, honest, and generous. They say, we have enemies and helpers. But what if they're one person?
The rise of financial technology opened many doors for economies on a global scale. While many were optimistic, there were also those skeptical. When you work hard for what you have, it becomes difficult to trust others with it. Fraud is real—it happens all the time, that's why people watch out for it. However, these people should also know not to turn their backs on all the good ones either. As the saying goes, "be careful who you trust, the devil was once an angel."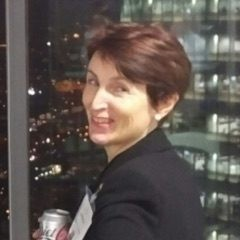 Who is Elfriede Sixt?
In her professional biography on ThinkBLOCKTank's website, it says: "Elfriede Sixt passed the US and Austrian CPA exam. She has been specialising in consulting for digital start-ups, crowdfunding and various Blockchain/DLT related topics with focus on crypto accounting and tax advising questions for the past 15 years. She is an ex-EY Partner, where she was responsible for International Accounting and Corporate Finance. She was Co-Founder of the German Crowdfunding Network (2012) and Founder of the FinTech Academy (2014). Besides being Co-founder of the thinkBLOCKtank, she is Treasurer of the Interplanetary Database Foundation Board (IDPB). She is Member of the Finance Working Group of Blockchain
Bundesverband (German Blockchain Association) and Speaker of the Tax Working Group of the Blockchain Bundesverband. She also is a Founder of the European Funds Recovery Initiative (EFRI). She published books on Crowdfunding and Blockchains/DLT with the SpringerVerlag and she is a blogger about different crypto-related topics."
In summary: a professional accountant, crypto-specialist, well-wisher, legal representative, founder of several companies, and author. There is no doubt that she has built quite the career for herself. Could it be that the reason for Sixt's growing fame is tied to such milestones?
Many sites were taken down regarding Sixt's other pursuits. Headlines reported acts of fraud, deception, and exploitation. To access such information, one would have to dig much deeper into the internet.
Corrupt History
Sixt has obtained numerous exploits in her career. Yline is an online service company that faced its downfall in 2001, dragging every stakeholder with it. Concerning its subsidiary WebLine, investors who have given their hard-earned pension lost the entirety of their contribution. Women who have provided their service were never compensated. The affair involved the exchange of overrated company shares. When evaluating the WebLine by the business consultant Ernst & Young, "massive mispricing" occurred. The falsification of accounts was directed towards Sixt who was an accountant from E&Y at the time.
In 2017, she was responsible for accounting when $561,373 was stolen by former-company CEO Böhm from BitRush Corporation. He tried hiding the illegal transactions by transferring the money over a period of several months to a smaller company he owned. The money was never restored even after BitRush demanded its return. When asked about the incident in an interview by Business Insider, Sixt did all the explaining. She denied the allegations, calling them baseless, in defense of her partner. Although no concrete affirmation was given.
Another was in early 2020, where speculations arose surrounding her involvement in the options business, betting against Wirecard. She made phoney accusations against the company for taking part in illegal business with Option888, a company that was proven to be one of Böhm's prospective clients while still at BitRush. Böhm can be quoted verbatim in a press release: "The partnership with Sheltyco is probably the most important step for BitRush to conquer significant market shares in the field of payment services." Strangely, Sixt merely denied and dismissed such queries and pressing remarks regarding such incidents.
Fintelegram
Fintelegram is a blog which, according to its own About Us page, "is a financial intelligence service focused on investor protection and the fight against cybercrime." Fintelegram boasts
that it provides "investigative journalism covering financial crime, illegal online schemes, and perpetrators on the ground of a strong whistleblower community." However, a look behind the facade seemingly reveals a far more nefarious agenda; one which suggests that financial extortion and personal vendettas is actually the driving force behind the self-purported watchdog of the financial community.
Multiple sources claim that Fintelegram either misrepresents facts or presents directly false accusations, without following recognized press ethics such as allowing the accused party to comment on the allegations. In multiple jurisdictions, this negligent omission alone would represent a serious offense. Fintelegram does not hold a press pass in any country and is not a member of any official press organization, in the EU or abroad. As such, it cannot really be considered a news outlet by any standard.
Furthermore, while allegedly exposing the identity of individuals behind the companies it covers, Fintelegram offers very little transparency on the people behind its own organization. So who exactly is behind it? And is their motivation really as noble as it seems?
According to sources, the mastermind behind Fintelegram is Austrian national Werner Boehm. Boehm is joined by his partner and chartered accountant Elfriede Sixt and fellow Austrian Alfred Dobias of MezzaCap Investments UK Ltd. Israeli and ex-IDF intel officer Ilan Tzorya has also been directly involved in the venture.
Business Insider goes on to speculate that Werner Boehm and Elfriede Sixt have since set up the organization European Funds Recovery Initiative – or "EFRI" – to drive the price of failed megabank Wirecard stocks down, raking in serious money on secret short positions in the stock. To Business Insider, Elfriede Sixt refuted the allegations as baseless. However, given the pair's prior track record in the world of financial crime, Business Insider's speculation seems entirely warranted. Online, Boehm's EFRI organization is also accused of being a scam, with purported former clients calling the organization and its people "100% fake conmen."
EFRI: A Double-Whammy Act
The innocently named 'European Fund Recovery Initiative,' was presented as a Non Profit set in place in order to help online scam victims retrieve their lost funds, by joining forces, sharing information and filing class actions against the scammers who conned them. Beautiful idea indeed, one many victims spend their days dreaming of. EFRI, as the 'fund' became colloquially known, was in fact a scam of its own. Once approached by victims, EFRI urged the ones contacting it to pay a significant fee for legal representation. The fee, they were assured, would be reimbursed to the victims in its entirety once the case was tried and the legal battle would have been won.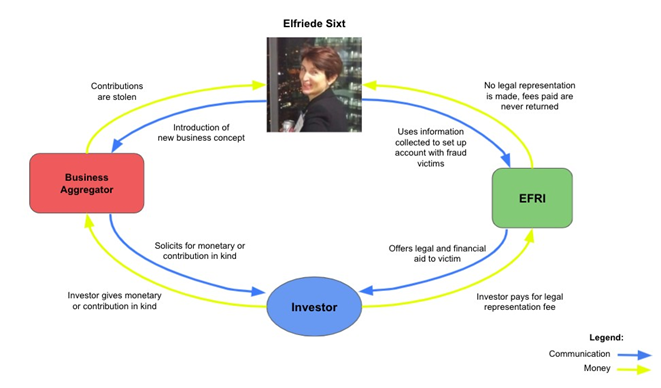 But EFRI, the fund that was supposed to help scam victims, never really existed. It was no more than an empty name. A shell organization, formed by Elfriede Sixt together with Werner Boehm to collect information about the field of scammers and get innocent people's money. No cases were prepared. No lawsuits were filed. No legal personnel was hired. EFRI was a mere scam. Another link in their seemingly endless chain of international scams.
The EFRI story is, sadly, far from over. As was advertised on his own site FinTelegram (an elaborate scam in its own right, used by Elfriede Sixt, Werner Boehm and their other criminal associates to advance their criminal ends and attack former colleagues and friends). EFRI is back again only this time the 'European Fund Recovery Initiative' has lost interest in its original goal – now it is used to settle personal scores.
Under the cover of the fictitious EFRI title, Sixt and Boehm urge people to petition for the extradition of Gal Barak – an Israeli businessman, currently facing charges in Bulgaria for businesses he owned and ran together with Boehm – to Austria, and his personal vendetta does not stop there. Werner, or 'EFRI', goes on tarnishing German businessman Uwe Lenhoff, a former associate of his (who distanced himself from Boehm, after the latter was found guilty of conducting a scam in the infamous BitRush trial) who, as we have shown in our recent report, has become a regular target, often attacked by Boehm's personal vendetta machine, also known as FinTelegram.
While the timing behind this 'urgent message' issued by EFRI on FinTelegram – one of their scams advertising another—their history of scams in general, and EFRI's ongoing scam in
particular, suggest that they are, once again, likely up to something cunning and most probably illegal. The best thing to do in this kind of situation may be to stay as far away as possible and be careful who you trust.
Sources: