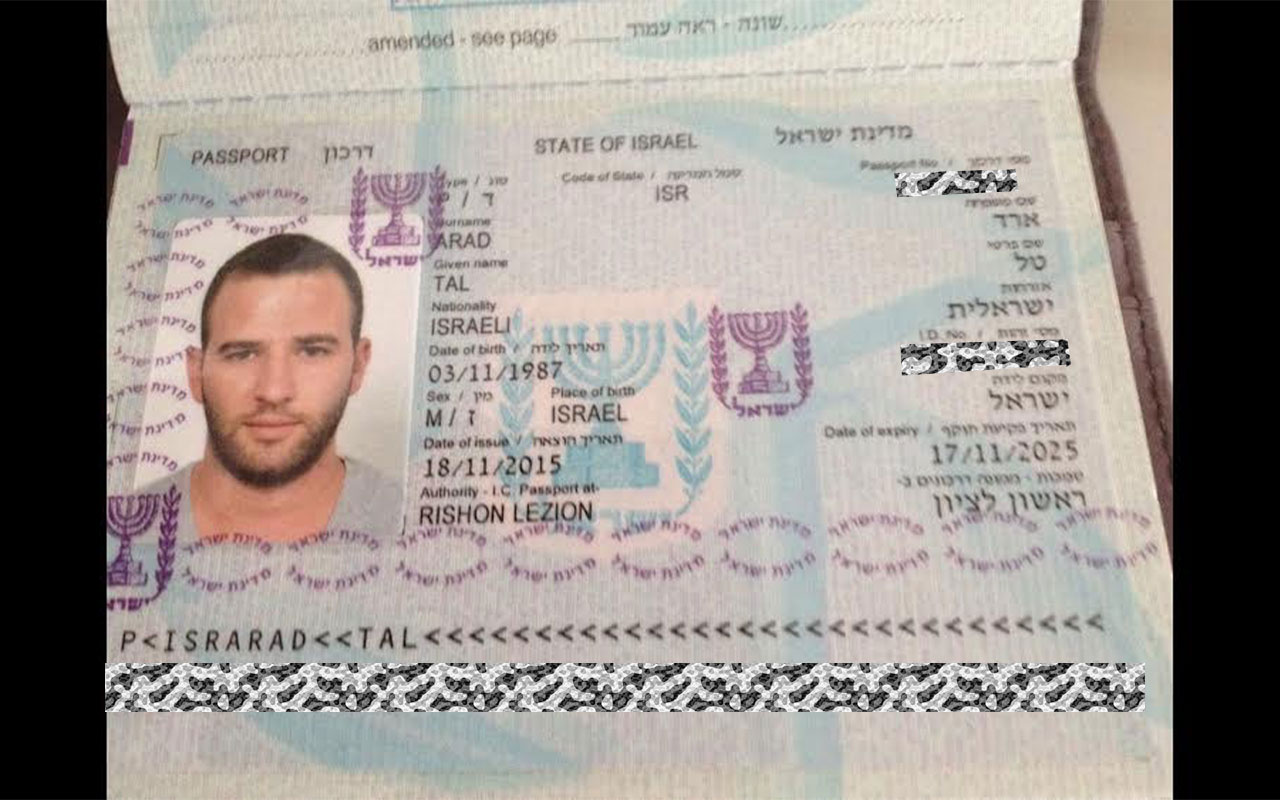 Exposé: Criminal Tal Arad Still Roaming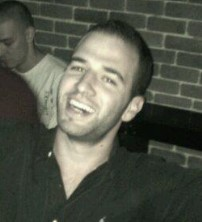 In the series of exposés against fraud network CFO, Tal Arad, we've covered some of the most scandalous revelations behind his underground affairs as Ilan Tzorya's right hand. Despite the public scrutiny he's gotten in the last couple of years, this man—who has aided in the injury of hundreds of thousands of investors—is still on the loose and people are not too happy.
As right hand, Tal Arad is responsible for "salaries, flights, and other expenses regarding Ilan's business activities" as mentioned in the detailed reports. Clearly, being a brother-in-law makes it a lot easier to become Ilan's most trusted confidant.
Aside from his responsibilities in Ilan's most private business life, Tal is also appointed to hold the network's top financial position. As Chief Financial Officer, Tal directs the flow of money in the network, as far as amounts and destinations are concerned. His expertise as both an accountant and lawyer play a vital role in the scheme's strategic financial design.
There have been many cases where Tal directed laundering operations—instructing handlers or even performing it himself—specifically, to smuggle cash and conceal it in real estate. In fact, the property in which he and his wife resides is one of the many properties. Such information has been plucked from the numerous leaked emails that now roam the web.
Finleaks has yet received another leaked email regarding Tal's previous activities. In an email sent by Jake Marks, whose real name is Gilad Mayer, he asks Tal to transfer 400,000 euros from the GIB to his company. He talks about covering company "expenses" and "start planning the near future."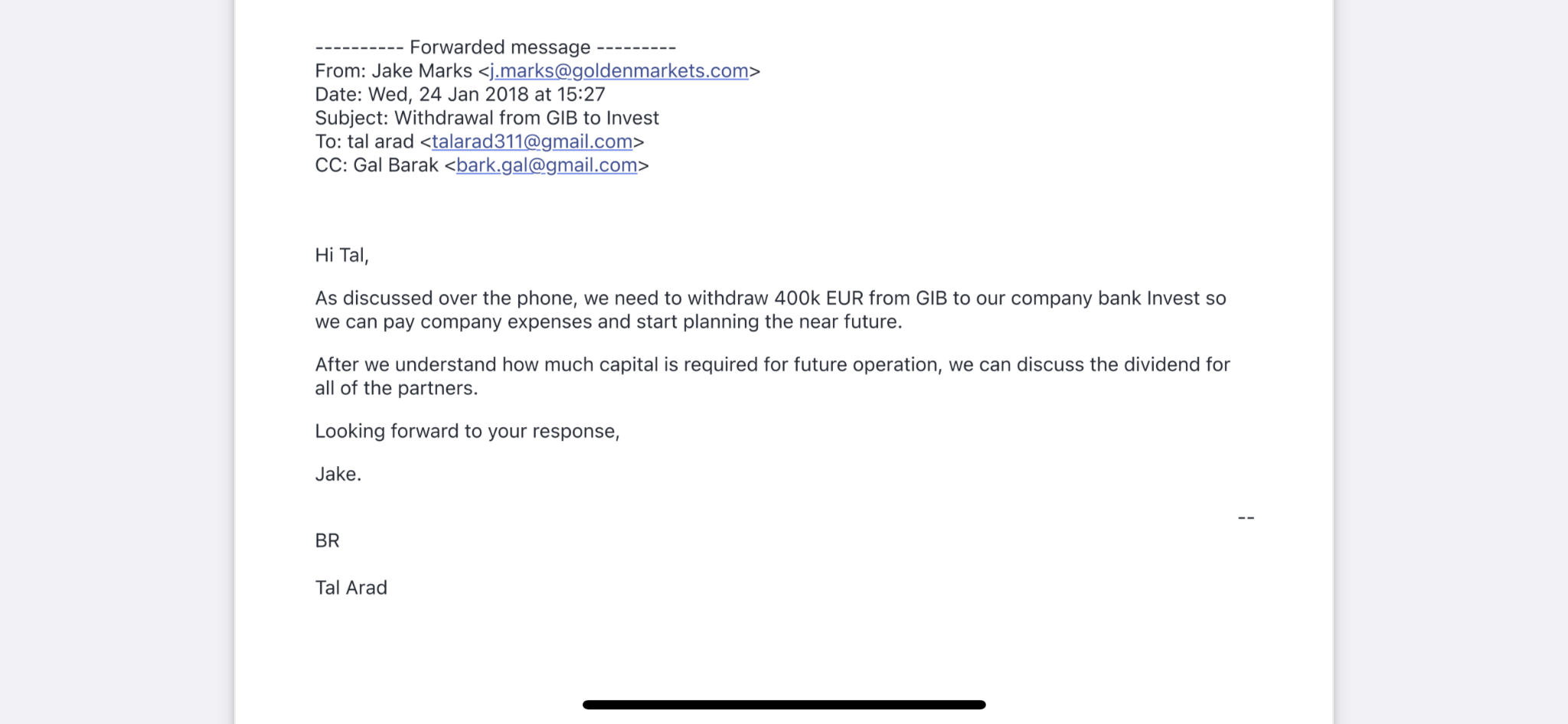 The Tradologic scheme consists of 1) Tradologic, as the main company, 2) Tradologic-powered brands, 3) non-Tradologic-powered brands, and 4) people of government. These brands work together to create what is called a "fraud arena" where investors are lured and then passed around to be taken advantage of. Through deceptive and extortive tactics, these companies are able to easily grab a foothold of their victims.
This so-called "Jake Marks" is the CEO and owner along side Ilan Tzorya of GoldenMarkets, one of the identified Tradologic-powered brands in the network. Because Tal is CFO, the amount of 400,000 euros must course through him. The process is similar to any other amount.

In this email, Ilan himself instructs to transfer 50,000 euros to BrightIdeas, an account in the network, and 120,000 euros and 30,000 euros to separate accounts. In order to hide the money, the cash must be transferred from one shell company, or in this case, account to another until it becomes untraceable. In the laundering process, Tal is a key component so he is always part of the exchange.

In this email, it reads:
"Hi Ivona good morning,
after discussing with Gal, please transfer 100k from GMP account to GM globe."
Tal is instructing Ivona Mollova (Ilan Tzorya life partner) to transfer the 100,000 euros from an account, GMP, to another account, GM globe, as part of the money laundering scheme. Quite similar to what Ilan did in the previous email, Tal directs the transfers in the network to safeguard the cash.
It's important to note that Tal is married to Shoval Tzorya (now Shoval Arad), an Israeli prosecutor and sister of fraud network mastermind, Ilan Tzorya. It has been proven in several reports that she, too, has been involved in her brother's scheme. Through her expertise, she has played an ally in their money smuggling and laundering despite the irony of her line of work.
Until now, neither Tal nor Shoval have any criminal records to their name. To the Israeli authorities, they are not persons of interest. With all the evidence available, how could that be possible? With billions of euros already stolen, the Finleaks organization continues their mission in pursuit of justice for the sake of past victims and protection of potential victims.