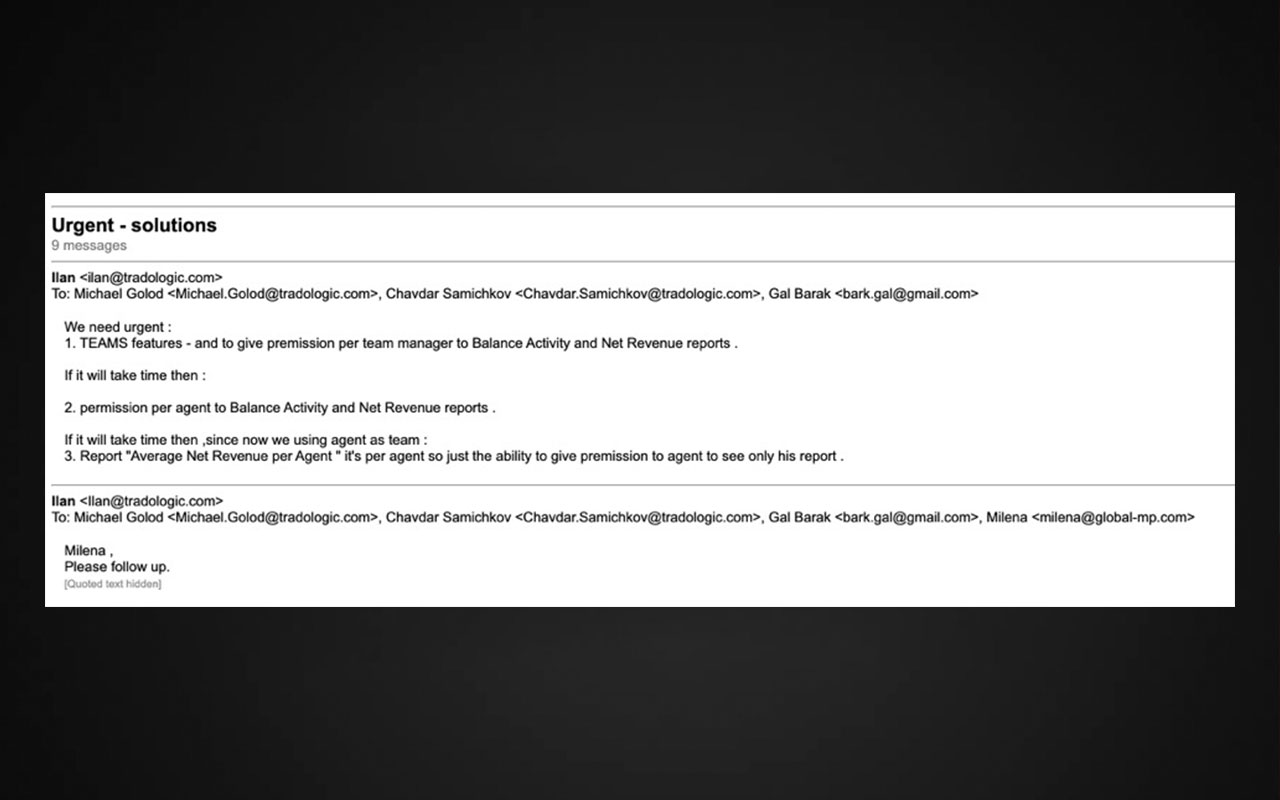 Breaking News! Ilan Tzorya Received Millions From Global Payment Solutions, A Company He Always Deny Knowing
Ilan Tzorya is one of the greatest liars in the world's history, besides being the mastermind of some of the largest online fraud scams that led to thousands upon thousands losing hundreds of million euros through shell companies he created.
Over and over again, Tzorya has denied connections to a Montenegro-based payment processing company known as Global Payment Solutions. And in his statements with the Austrian law enforcement, the fraud mastermind claimed he never knew anything or even heard about the conspicuous payment gateway that he uses for his ill-fashioned businesses.
Being the sole owner of DTIG, Tzorya is completely in control of the company's operations and critical decision-making over essential activities. He oversees business operations, precedes critical decisions within the company, and pays all the expenses involved in running the cloned outfit.
Through the DTIG company, Tzorya partnered with the so-called "Lenhoff's brands" and "Barak's brands," of which he masterminded and lured the two partners into, just to have a safe exit in the event of a crackdown on the criminal network by law enforcement agencies.
A Rogue Business Operator on The Loose
Despite being hailed as one of the most successful businesspersons in Europe by those who know little about his crime and more about his multibillion business empire, philanthropy, and his entrepreneurial culture, Tzorya is a rogue business operator who lures his partners into perilous traps using lucrative offers.
As it has been his tactic, he preys on every business partner he engages with, snitching them to the police using fabricated claims, and takes over their businesses once his dirty tricks pay off.
And that's the old trick that this former IDF intel has mastered well for more than a decade. And it's no surprise for him to deny any link with his troubled partners.
Besides being 50% owner of Gal Barak's E&G and one of the majority shareholders of Lenhoff's Veltyco Company, he created a network consisting of several dozens of shell companies he uses as a funnel to channel the money stolen from fraud victims to his associated accounts.
But, how did he get his lion's share from large operations he masterminded and funded? It was through the GLOBAL PAYMENT SOLUTIONS DOO, in which he was also a partner.
Denial of the Obvious
While Ilan Tzorya has constantly been denying working with Lenhoff's brands and Barak's E&G network, he also doesn't admit to knowing about Global Payments Solutions, despite being one of the company's partners. And every time he's questioned about it, he would tell nothing short of lies.
According to our investigative findings, Tzorya has received millions of euros through Global Payment Solutions as dividends from the many businesses he operates behind the scenes through his DTIG company, including E&G and Veltyco company.

Based on the screenshot from a private email conversation between Tzorya, Barak, and Tzorya personal accountant in Ukraine, Tzorya was notified about EUR 100,000 received from GLOBAL PAYMENT SOLUTIONS DOO by his accountant on May 16, 2017. However, he couldn't understand the source of the money since there were no explanations added. So, he thought the money was from his partnership with Barak.
Basically, the money Tzorya received was divident from the "Lenhoff's" brands (Veltyco).
The above email evidence shows Tzorya's outright partnership with the Lenhoff's Vltyco, despite distancing himself during police interrogations and a series of scathing attacks and defamation published by Werner Borhm on FinTelegram.
Being one of the persons with significant control of FinTelegram by being one of the majority shareholders through his company known as Krypton Publishers, Tzorya uses the blog in every way possible to paint Lenhoff and Barak as serial fraudsters while distancing himself and playing angel.
Considering all that, it isn't genius to notice that Ilan Tzorya is a serial criminal who should be held responsible for the widespread fraud operations carried out by Barak and Lenhoff's brands. He was the mastermind of the entire fraud operation. Moreover, he was in perfect control of everything behind the scenes.