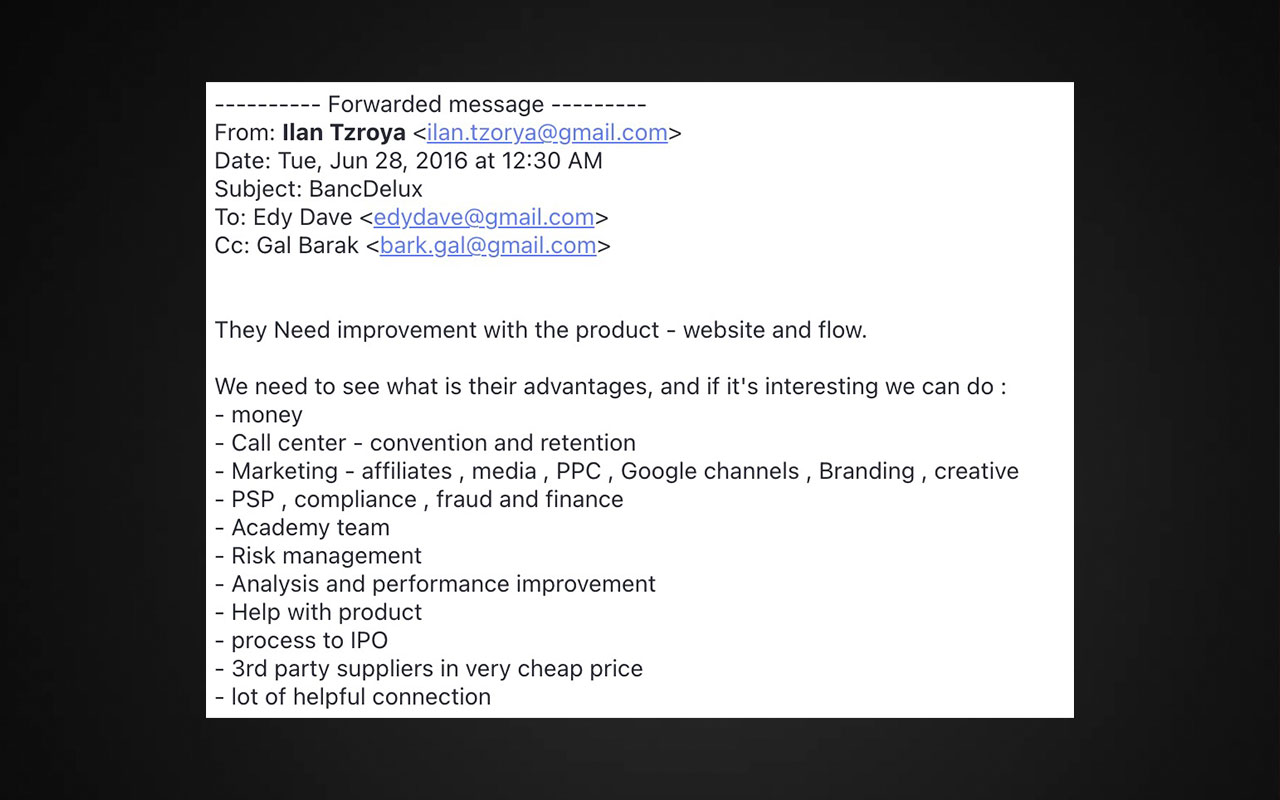 Ilan Tzorya: The Puppet Master of E&G and Veltyco
Apart from being famous for his Tradologic platform aiding multiple international online fraud scams, Ilan Tzorya is a known master of an international fraud, blackmail, and money laundering business run through his Tradologic, FinTelegram and EFRI networks.
He is also a serial binary options fraudster with over a decade of experience in the unlawful business, comprising dozens of brands and hundreds of shell companies he uses to launder money across his networks.
With Tradologic part of the broader fraud network that netted more than 1 billion euros, Tzorya's fraud outfit left many victims reaping losses.
While Ilan Tzorya has been denying any wrongdoing and constantly distances himself from the E&G and Veyltco networks, the findings of our investigations put his hands right into the cookies' jar.
However, with his strategy of using multiple business partners he lures into a 50-50 revenue share deal, it has been pretty challenging for law enforcement authorities to zero down on him immediately.
But, with the community support and high level of commitment from our investigative team, we've always had to get to the details of various scams and fraud networks run by Ilan Tzorya and his close confidants.
Through an in-depth analysis of our findings, Ilan Tzorya is the puppet master of E&G. He lured Gal Barak into setting up E&G and presided over the brand names to be used for the operations.
Besides overseeing the entire start-up process, he also provided all the necessary resources, including trained sales agents and the Tradologic software used to defraud victims of their money, which is then laundered through the DTIG, GMP BVI, and other shell companies worldwide.
Let's get to the breaking details.
Based on the evidence in the hands of our investigative team, Ilan Tzorya and a team of close confidants used fake invoices to launder money.
Despite admitting to having no link to the scam network, a screenshot of one of the invoices shows money paid to Ilan Tzorya through OptionStars—one of the E&G brands funded and operated behind-the-scenes by Tzorya's Tradologic company.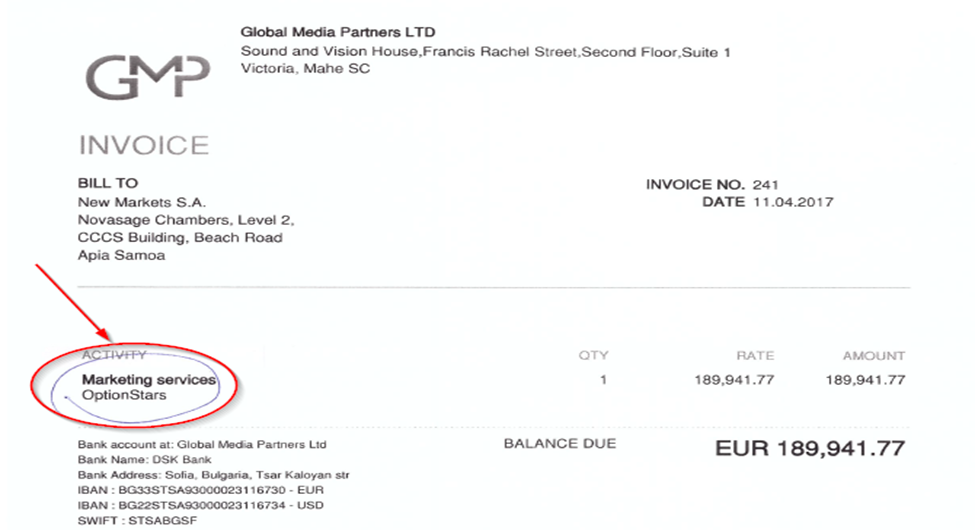 Ilan Tzorya Coordinates the Amount to Be Laundered
As explained in our previous exposes, Tzorya was always in charge of critical processes in the entire E&G network. Everyone relied on him to approve every operations process, including accounting processes. More often, his ex-wife, whom he also trusted alot, Ivona Mollova, together with Gal Barak, would keep the entire E&G operations running.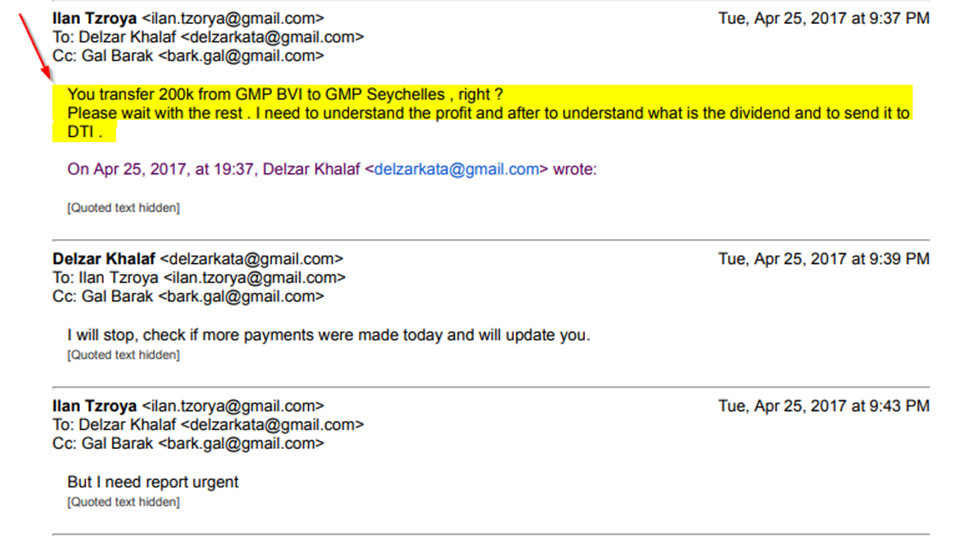 From the above screenshot of email conversations, Tzorya directs Delzar Khalaf on what to do with the amount received from the E&G network in terms of profit and dividend. According to the details of the screenshots, Tzorya directs Khalaf, the E&G's CFO, to transfer 200,000 euros from their GMP BVI to GMP Seychelles.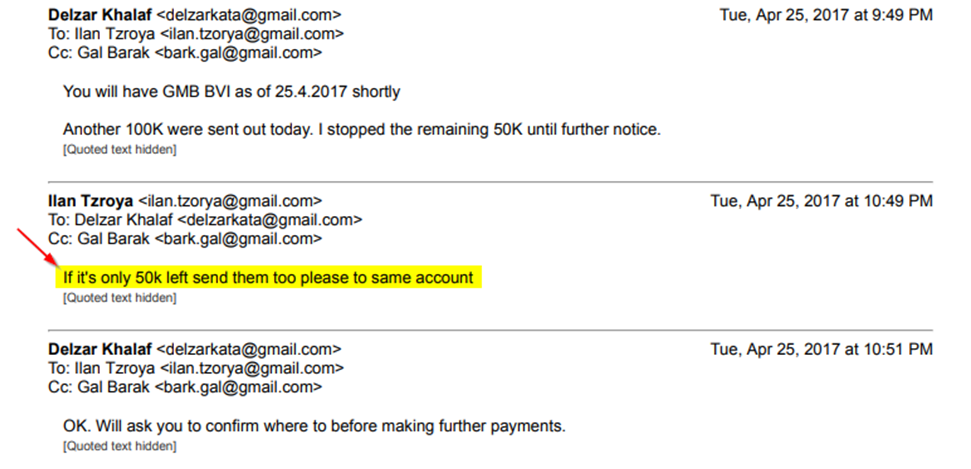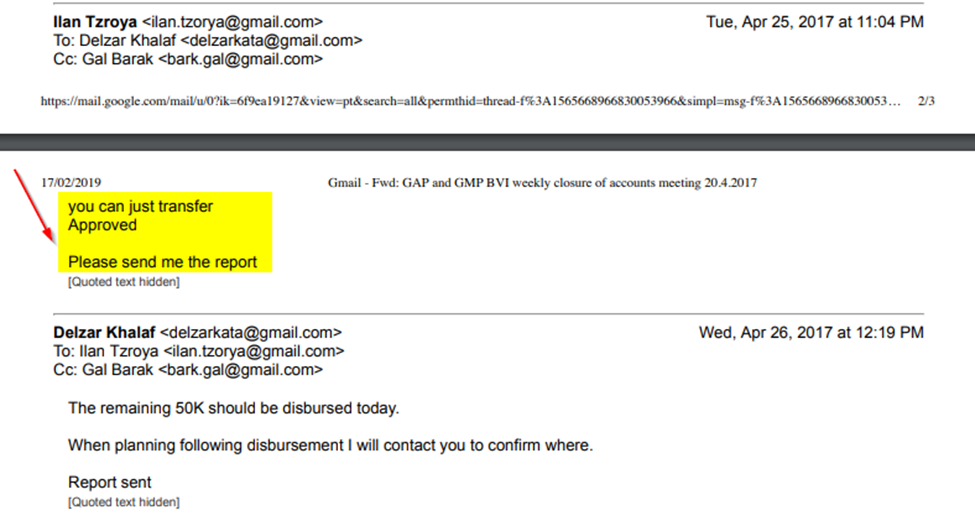 Basically, Tzorya was in total control of E&G operations, and everyone working with the business, including Gal Barak, couldn't do anything independently without seeking approval or suggestions from Tzorya, who was in charge of everything.
The Unseen Master
Despite being the master behind every E&G, Veyltco, EFRI and FinTelegram operation, Tzorya has always remained the unseen master. But how does he afford to stay off the spotlight for such a long time? He uses other partners as a shield and a business 'front' to escape.
When luring the partners he trades for safety, Tzorya pays for everything and provides all the necessary know-how for start-up, growth, and success. And that's his long-term tactic that seems to pay off in a greater way.
By not having all the fraud operations publicly under his name, he opts to use another person and remains a behind the scene 50% shareholder who hides in the shadow of other partners while at the same accusing them of fraud that he, Ilan Tzorya, pioneered, and patented.
Tzorya has also been secretly snitching his partners to law enforcement in exchange for his freedom while distancing himself from the entire operation that piped millions of euros into his bank accounts. With the evidence discussed in this article, it's pretty straightforward Ilan Tzorya is the puppet master of the fraud networks, despite denying his involvement several times on his statements and even during police interrogations.