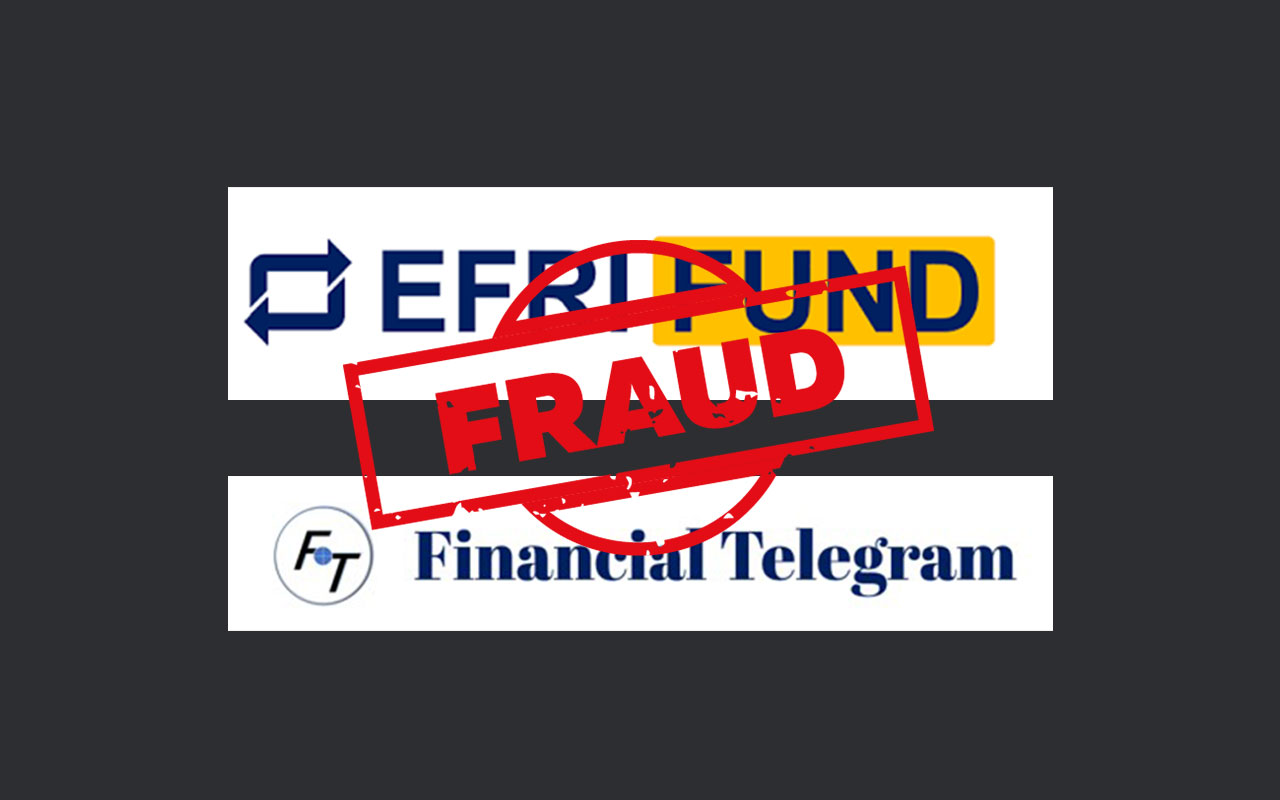 EFRI, A Scam And Cover-Up Network Run By Serial Criminals Indicted In Multiple Crimes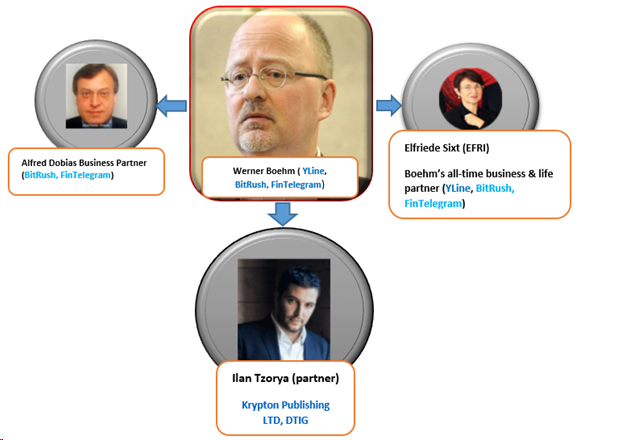 The European Funds Recovery Initiative (EFRI) is one of the popular outfits claiming to help fraud victims get their money back from fraudsters and European authorities. Registered in Vienna, Austria, the organization is just a criminal shell pretending to be a not-for-profit association interested in helping people recover their lost money.
Sadly, NOT EVEN ONE VICTIM HAS RECOVERED HIS LOST MONEY FROM EFRI TO DATE. INSTEAD, THE VICTIMS WERE LURED INTO PAYING THE CRIMINAL OWNERS OF EFRI AND ENDED UP BEING SCAMMED AGAIN.
According to our in-depth investigations and analysis, EFRI is nothing short of another criminal-run organization. Behind the scenes, owners are serial criminals with a history of theft, money laundering, online fraud around crypto and binary options trade scams. As such, the company does nothing at all to help victims of scams and online fraud. Before getting to the legitimacy of the claims made by all-time criminal owners of the organization, it's imperative to understand who's behind the fake recovery organization with a goal too good to be true. Also, keep in mind the organization claims to be a not-for-profit entity, but in the end, it would ask for a fraction of the money lost by a victim as a fee for initiating the recovery process.
So, Who Founded EFRI, and what's the Driving Force Behind it?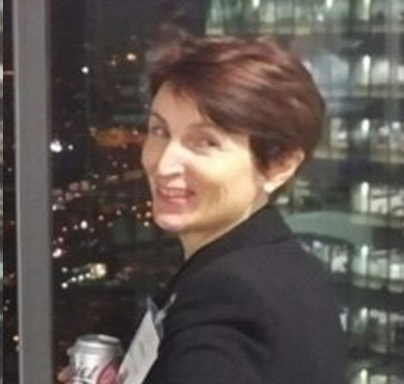 EFRI is one of the innocently-named fraudster organizations founded by Elfriede Sixt with the guidance of her business partner Ilan Tzorya. Sixt is one of the prime suspects indicted by Austrian authorities in YLine's scandal in 2001 and a convict by a Canadian court for stealing money at BitRush together with her life and crime partner Werner Boehm.
Posing as a professional accountant, a legal representative, crypto specialist, founder of many companies and outfits, including EFRI, and an author, Sixt is nothing less than a perennial scammer hidden behind innocent fake titles.
When she founded EFRI, together with Boehm, and Tzorya, they made it appear the ultimate saviour of many weak and innocent people who lost millions to fake online binary options trade run by Ilan Tzorya's Tradologic Company.
While the outfit claims to cooperate with authorities to help the victims of online fraud recover their money, the same EFRI is owned by a network of notorious criminals, led by Tzorya, Boehm, and Sixt, who plan their nefarious deals behind the scenes.
Based on our investigations, EFRI works with Vienna Lawyers KWR connected to YLine's case and FinTech academy. KWR Karasek Wietrzy Rechtsamwalte has an office located at Fleischmarkt 1, 1010, Vienna, Austria.  The address of the criminal-affiliated lawyers is published by Elfriede Six on one of their company's websites, axxelerate GmbH— a subsidiary of Boehm's MezzaCap, managed by Sixt.  Housmaninger Herbst Wietrzyk attacked IBM in defense of Boehm's YLine and later worked around to get Sixt acquitted before founding FinTech academy with her.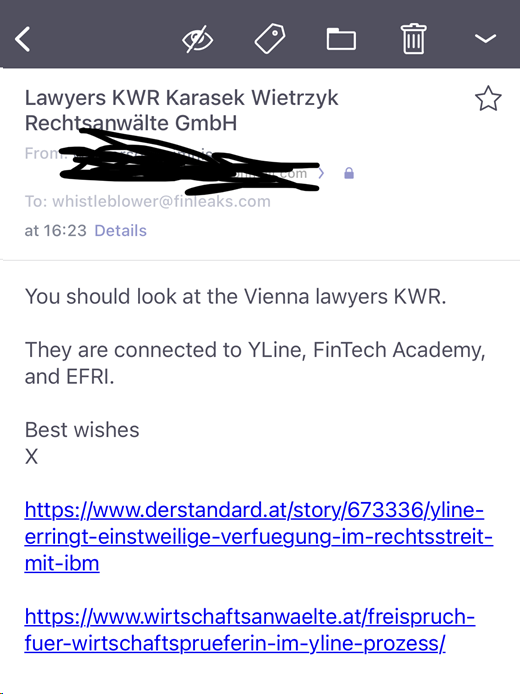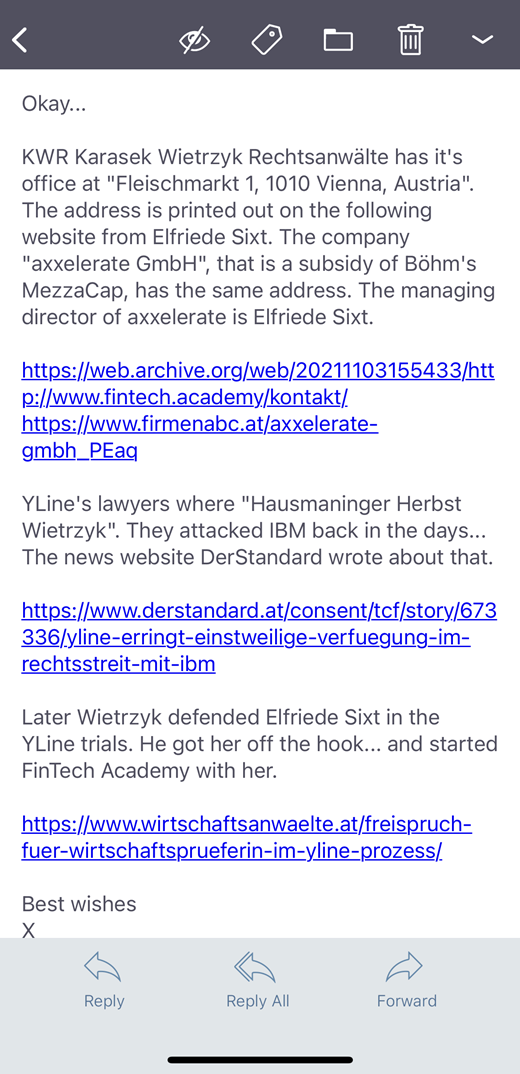 To be precise, EFRI is another criminal outfit preying on innocent victims pursuing their lost investments. With no regard to their victims' tough times after losing their hard-earned money, EFRI would again scam them. And that's what makes Werner Boehm, Elfriede Sixt, and Ilan Tzorya the most heartless scammers the world has ever had.
The three owners of EFRI accused one of their former partners, Uwe Lenhoff, of all types of scams in which they all got their fair share. After defaming Lenhoff and demonizing his brands, the three criminals use EFRI to scam already struggling victims with the false hope of getting them assisted at a fee.   Nevertheless, they still ask the victims money to help them trace the scammers, while they (Tzorya, Boehm, and Sixt) are behind the widespread online scams, fraud, money laundering, and extortion.
EFRI Is an Elaborate Scam Defrauding Victims in Their Darkest Hours
Due to its hope-rekindling name, many victims of online scams desperate to recover their lost money would contact this camouflaged fraudsters' organization under the guise of funds recovery, hoping to get their money back. The outfit is yet another sinkhole double defrauding desperate victims with no gain at all.
So, what's EFRI? It's a criminal network founded by Sixt and two behind-the-scene operators: Boehm and Tzorya.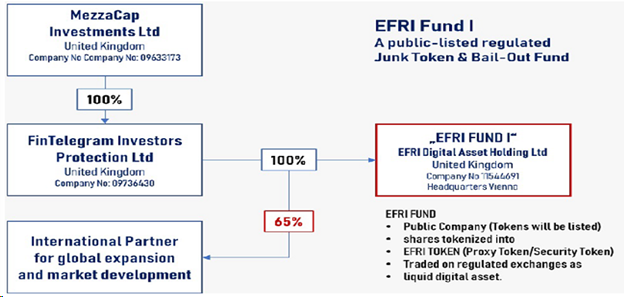 Basically, EFRI is just a shell company used by the three criminals to get important information and set up an account with fraud victims. Despite being a "no-profit" initiative, Sixt would ask for money from the victims who are already troubled by huge financial losses due to fraud.
So, How Do They Work? Here's the Method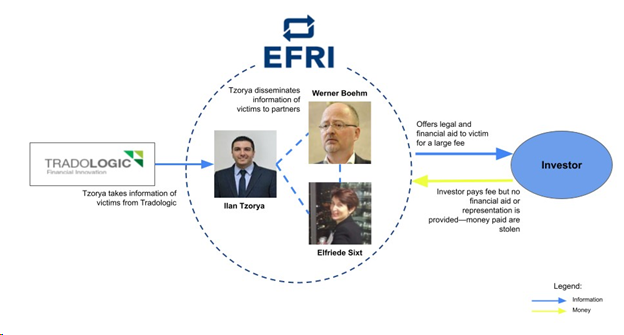 EFRI chain of fraud begins with Ilan Tzorya (the owner of Tradologic) providing the victims' database to Elfriede Sixt to lure them into yet another trap. With names, contacts, and the amount lost by victims to Tradologic fraudulent systems, Sixt would then use EFRI to send spammy emails and dupe them into believing EFRI would help recover their money.
Once a victim approaches EFRI for help, they request a significant amount of money in the name of 'legal representation fee,' no suit is filed in any court, no legal representation, and no reimbursement of the paid money.
The three criminals have also used EFRI to level out their Vendetta with Gal Barak and Uwe Lenhoff, as with FinTelegram.
Werner Boehm, a serial international fraudster and the owner of FinTelegram, urged people to petition for extradition of Gal Barak—an Israeli citizen by birth who was facing criminal charges for operating scummy business brands linked to Ilan's Tradologic Company. This is without us even mentioning an illegal interference with an EU court of law and falsifying fake petitions of people who never existed or actually signed it. Boehm and Tzorya were also behind Gal's businesses before fixing him with the law enforcement authorities to give them room to takeover Gal's business once he's arrested, as it was for Lenhoff and his brands. The three criminals used EFRI to tarnish Lenhoff's name and business image without mentioning they also got part of that money.
No Money Recovered and No Legal Suit Filed
If EFRI is interested in helping the victims of fraud, as they've indicated on their website, why hasn't it refunded even one victim so far? And if holding criminals accountable wasn't possible, why hasn't it refunded the victims legal fees?
EFRI got it wrong from the start since the outfit is just a shell organization that cannot execute the mandate highlighted on their website. The serial scammers it promises to go after are their own partners and part of EFRI ownership. For example, Ilan Tzorya, a close friend and business partner of Boehm and Sixt, was indicted in white-collar crimes around binary trade, money laundering, and fraud that led to many unsuspecting investors losing a colossal amount of money in Austria. Arrangements for his trials are underway.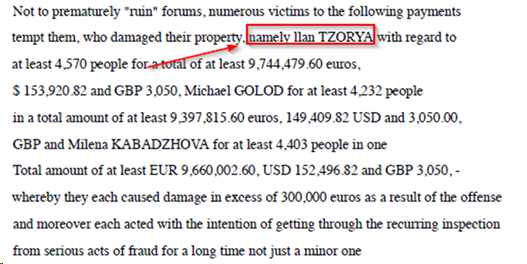 With Ilan Tzorya being behind widespread scams across complex fraud networks, it's pretty clear the money EFRI promises to recover is with them. Considering that Boehm and Sixt are Tzorya's business partners at FinTelegram, and DTIG Holding—where Boehm has a Power of Attorney (POA), attacking Tzorya would be as well as attacking themselves.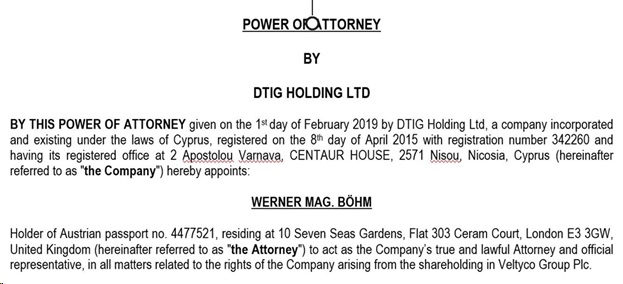 According to an article published by Forbes India, Ilan Tzorya is a crypto-multimillionaire. So, how did he get there? It's pretty obvious: through largescale fraud, theft, and scams. Therefore, if EFRI is a genuine entity, why don't they ask Tzorya to return the stolen money? After all, the money is very little compared to his current multimillion net worth. Regarding all the burden of proof we've shown in this piece, it's a no-brainer to conclude that EFRI IS NOTHING MORE THAN A SCAM propagated by serial fraudsters to meet their criminal ends. Warn a friend to warn a friend about this scam trap pretending to help fraud victims.
Stay tuned for our next expose on hidden criminal networks run by Tzorya and his accomplices.