FinTelegram: A Perfect Vendetta Machine In The Hands Of Serial Scammers
FinTelegram, an online outlet hiding behind spreading financial intelligence news, is a perfect tool in the hands of notorious criminals indicted in theft, fraud, money laundering, and online scams around binary options trade, and more.
The outlet is owned by two international serial criminals, Werner Boehm and Ilan Tzorya, who often use the channel for purposes other than spreading financial intelligence. Boehm, who was indicted in the YLines's fraud, launched the platform in 2018 under the guise of a financial intelligence outlet. But, it later turned into a criminal network.
Tzorya and Boehm have frequently used the outlet for extortion and destroying victims they have worked with and scammed before.
Ilan Tzorya, is an iconic person when it comes to fraud and philanthropy in equal measure. But, unfortunately, his fake "straightforward" and "do-gooder" character has been giving him a haven in the face of prosecutions for crimes engineered by himself, leaving his partners in trouble.
However, the two criminal owners of the site have since found a tactic that fulfills their devious ends. In fact, you'll be shocked to learn that most of the people and companies mentioned on most FinTelegram reports were former partners? If not so, then the insider analysis of the incidences is enough to raise your eyebrows.
Tzorya and Boehm are famous for piling pressure on their adversaries while manipulating the ongoing cases they're also involved in. And in the process, they obstruct justice. The two criminals have mastered how to make well-grounded allegations against their former partners while keeping themselves clean in multiple scams being investigated by multiple investigation agencies across the globe.
Tzorya and his criminal partner, Boehm, have on multiple occasions used the nefarious tactic to deter victims they have scammed and conned from holding them responsible for their involvements. While there are many such cases of using information war on their adversaries, we'll dive into details of the most depictable incidences in which FinTelegram became a perfect vendetta machine.
Tzorya's Dirty Tactics for Handling Adversaries
Tzorya and Boehm have a method that has always been effective in dealing with their adversaries. But, how do they do it? Well, it's pretty simple. First, owners of FinTelegram go for their former partners or people they worked with and accused them of fraud and other criminal activities after they refused to cooperate in their illegal activities.
With the target at hand, the two would publish numerous articles labeling wild allegations and other false criminal activities against them. Surprisingly, most of the valid crimes published by FinTelegram were committed under the instructions of the two serial fraudsters: Boehm and Tzorya. However, there's no mention of the website owners in the reports published, despite being the mastermind of the crimes and equal partners.
The systematic defamation by the owner of the rogue online news outlet is always intended to pile more pressure on people they had worked with or their victims to conceal criminal endeavors that they were victims of or key players in.
They also discredit the victims' evidence they might give to authorities investigating the crimes by unjustly tarnishing their names. By doing so, Tzorya and his partner, Boehm, effectively obstruct justice. Tzorya is also effective at fixing their victims with the police to aid their arrest, leaving the two criminal masterminds taking over the businesses. Tzorya and Boehm are in the business of publishing tons of reports portraying their former partners and their victims, who are mostly law-abiding as dangerous criminals while hiding themselves behind the scenes. But the dirty trick doesn't just stop there. The two criminals have also been involved in extorting their adversaries while threatening to expose them. So, let's get to the details.
How Tzorya Used FinTelegram Against Uwe Lenhoff and Haim Toledano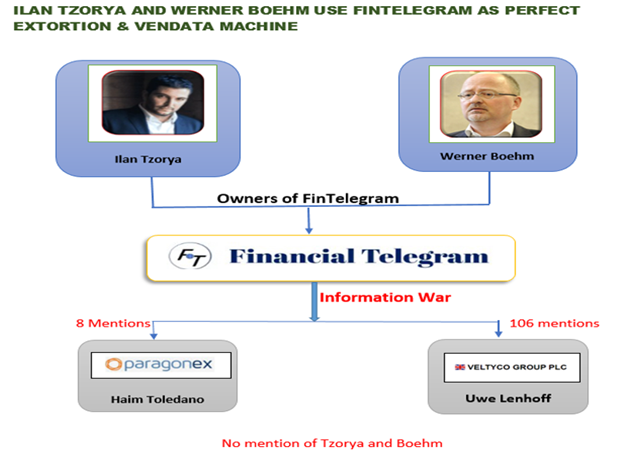 Werner Boehm Wages Information War Against Uwe Lenhoff
Using FinTelegram as a vendetta machine is one of the perfect ways Werner Boehm and Ilan Tzorya make income through extortion. And Uwe Lenhoff and Haim Toledano are perfect examples of how the fraudster outlet (FinTelegram) operates behind the scenes.
Let's dive deep into details on how the two victims were witch-hunted by their former associates (Tzorya and Boehm) in the name of 'whistle-blowing' after their relationships crumble.
Boehm and Tzorya would publish a series of malicious articles with fake claims and later ask for money to take the posts down. But they don't just stop there. They report their victims to the police with fabricated claims and take over their businesses after being arrested. That's what Boehm did to Lenhoff.
Werner Boehm, Tzorya's partner at FinTelegram, used the website for an extensive vendetta after a fallout with Uwe Lenhoff following the BitRush scandal.
Lenhoff's decision to sever their relationship after Boehm and his accomplices were found guilty of fraud and theft by a Canadian court wasn't anything Boehm would expect. As a result, he made Lenhoff his lifetime enemy, publishing over 100 reports defaming Lenhoff and accusing him of absurd crimes.
Being Boehm's partner in crime, Tzorya also uses the same tactics as Boehm when it comes to Vendetta. And Haimo Toledano's case is a perfect example of how Tzorya used the channel to spread false information and defame Toledano after he (Tzorya) defrauded him of his investment and failed to reimburse. Check our next article for more about Tzorya and how he defrauded Haim Toledano before turning FinTelegram on him.