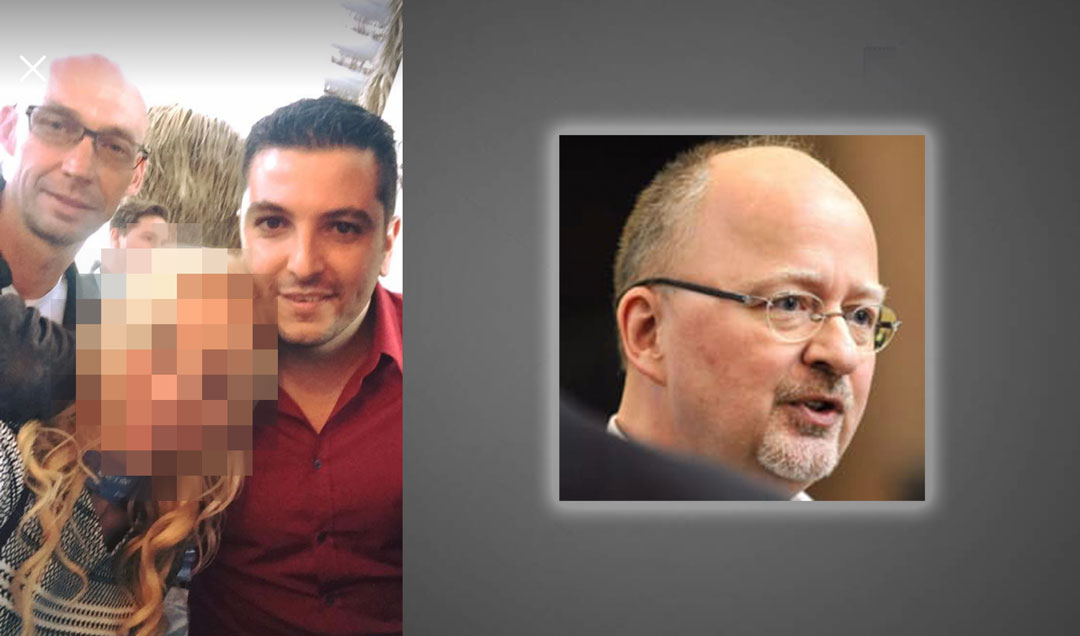 EXPOSED! Werner Boehm 15% owner of OPTION888!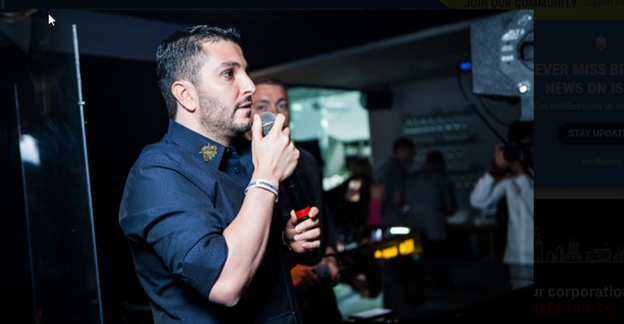 Ilan Tzorya is a serial fraudster who has mastered the art of running multiple behind-the-show networks of fraudulent deals and partnerships that rarely gets into the full glare. The networks are always carefully planned and articulated. Even law enforcement agencies find it difficult to underpin him in various fraud, money laundering, and other kinds of illegal ventures from which he mints millions and millions in profit.
Tzorya has collaborated with many in his fraudulent deals and lured many into partnerships, in which he would always pull the plug and fix the partners with the law enforcement agencies for allegedly running illegal and fraudulent businesses. When the victims of his mischief get to jail, he grabs their businesses and expands his brand base.
But why is he not arrested despite participating in the businesses before articulating their imminent failure? Is he always an angel while his partners are evil? Well, the answer is pretty straightforward: he is talented at carefully scheming his exit strategies in case of a business venture implosion.
Therefore, it's not a surprise how he evades the enforcement radars and stays afloat when his partners find themselves in dire trouble. With the FinTelegram at his disposal, the work becomes even simpler. All he does is publish tons of misleading and defaming articles about his former partners, accusing them of absurd crimes of which he himself is part and parcel. And Uwe Lenhoff's case is a perfect example.
In this article, we'll delve deep and expose how Werner Boehm and Ilan Tzorya
cooperate behind the scenes as a unit in furthering their devious ambitions. Also, we'll show Tzorya and Boehm were actively involved in Lenhoff's business before despite writing more than 100 articles accusing him of running multiple fraudulent websites.
Werner Boehm & Ilan Tzorya Partnered With Uwe Lenhoff
Werner Boehm—the mastermind of the YLine and BitRush scams, and Ilan Tzorya—god-father of online scams, are ultimate business partners with many years of cooperation. Besides that, the two have also been indicted for various financial scams around binary options trade, theft, extortion and money laundering that caused far-reaching sufferings to their victims. Little known to many, the two were close business associates of Lenhoff before finally turning tables on him with wild and shocking allegations about his businesses, without mentioning their ties with Lenhoff. After all, you should never throw stones if you live in a glasshouse.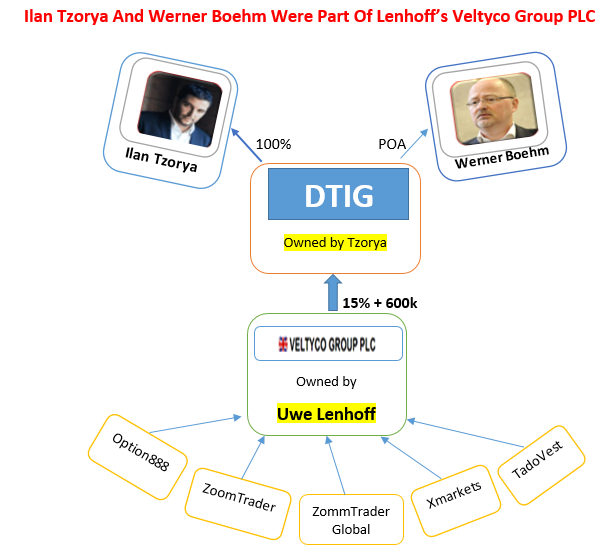 Boehm was a very close friend of Uwe Lenhoff when Boehm was still at BitRush until he (Boehm) was found guilty alongside his scammer partner Elfride Sixt by a Canadian court for illegal transactions that led to hefty fines and compensations. However, Lenhoff severing their ties was one of Boehms worst nightmares, making him turn Lenhoff'his lifetime enemy.
Similarly, Tzorya lured Lenhoff into partnering with him at Tradologic. Tzorya swapped one of his first-ever acquired brands, ZoomTrader, with a 15% stake in Veltyco Ltd—Lenhoff's company, plus 600K. ZomTrader was 100% owned by Tzorya through DTIG, a company he cloned from the DTI Seychelles. Unlike the original DTI, where Tzorya only had a 40% stake, DTIG is exclusively registered under Ilan Tzorya's name.
Werner Boehm Has a Power of Attorney Over Ilan's DTIG
Boehm being granted a power of attorney means a lot than meets the eye. Since a power of attorney means "the authority to act for another person in specified or all legal or financial matters," this power can only be granted to a close associate or a family member. According to evidence gathered by our investigative team, we can establish that Ilan Tzorya granted Werner Boehm a power of attorney (POA) over DTIG on February 1, 2019. So, Boehm having a POA over Tzorya's DTIG shows how closely they work together.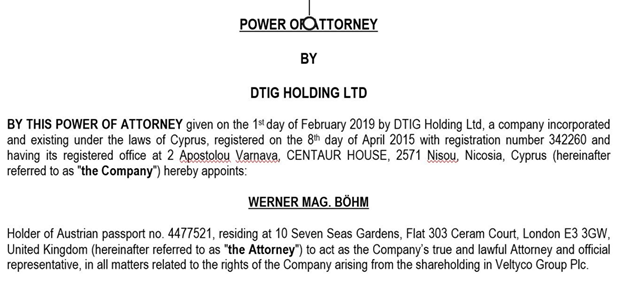 With such an insider involvement in Tzorya's company which owns a significant share in Lenhoff's business, it's clear the two have been part of Lenhoff's businesses. But why are they demonizing Lenhoff and his businesses while they also own a portion of it? It's pretty straightforward; they wanted to ruin his business, fix him with the police, and then take over his company after he goes to jail.
But why is Boehm not writing about Tzorya or himself being a partner in Lenhoff's company, Veltyco, that he claims to run a string of fraud networks, scamming tons of people across Europe? Why did they publish over 100 articles defaming Lenhoff while they also got a share of the money from Veltyco? Well, these questions boil down to one answer: 'they are a criminal family' up to no good but extortion and destruction of their former partners. While Boehm has a POA over DTIG, Tzorya's company, Krypton Publishers also has a significant share in the Boehm-founded FinTelegram, making Tzorya a person with significant control over FinTelegram.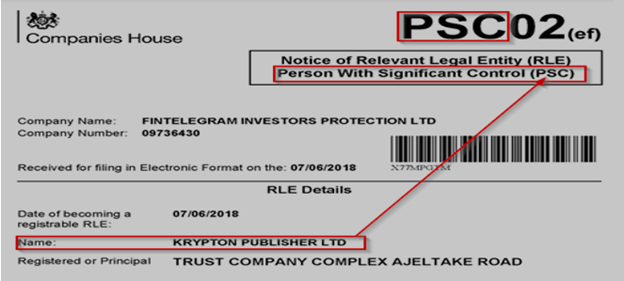 With that in mind, no one could dare publish an article concerning Tzorya's partnership with Lenhoff, as they claim he's a scammer, fraudster, and all kinds of ill-motivated descriptions.
While Tzorya is partnering with Werner Boehm at FinTelegram, Boem tries to cover up the fraudster's hand in the news outlet ownership. In fact, Boehm alleges they had declined Tzorya's request to partner with them after they learnt he was a suspect in the Austrian police investigations, Times Of Israel reported in an article back in February 2021.
"When we learned that Tzorya is a suspect in this Tradologic case, we said we cannot allow Krypton publishing to invest in Fintelegram. So he rescinded the whole contract," Boehm told TOI. But is that really the reason behind their stand? It's NOT! Based on the screenshot we've just shared, Tzorya is already a PSC at FinTelegram through Krypton Publisher Ltd.
Boehm also admitted holding several meetings with Tzorya, in Israel and other locations, in which Tzorya gave him criminal information to share with the police.
Boehm also said the Austrian police had asked them to refrain from writing about open cases. Therefore, he can't cover Tzorya's stories.
"We have been asked by the police to be a bit cautious when reporting on an open criminal case. I think that's understandable, right? So we actually reduced our reporting on the main business and focused on what is already public," he said.
Is that any truth to get by? NO! Boehm has written about many open cases. Therefore, these upright responses are just crafted to make his erroneous claims legitimate.
While Ilan Tzorya and Werner Boehm tend to hide their close cooperation, the two serial fraudsters operate businesses together. They are working together at FinTelegram, DTIG and even with Uwe Lenhoff before turning on him with all kinds of fraud claims. Not to mention, they are also represented by the same lawyer in their criminal cases.
Besides controlling Lenhoff's company, Tzorya, Boehm and Elfride Sixt pretended to help victims of Lenhoff recover their money at a fraction of their lost money as a recovery fee. However, EFRI is just another scam. And the victims are not aware owners of EFRI are the same owner of the scam brands they have lost their money to.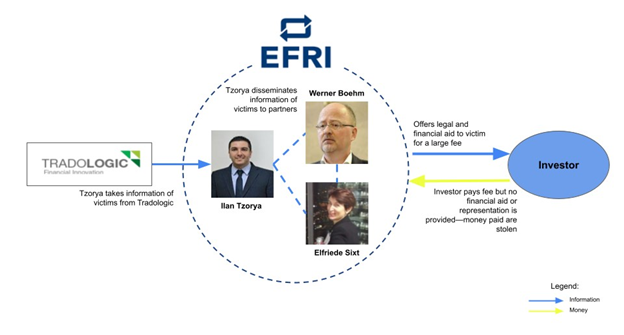 Check out our next article for more details on the hidden crimes by Ilan Tzorya, Werner Boehm and Elfride Sixt, how they use EFRI to fool their victims (for the second time) into believing they can help them recover their lost money.