The Modern Mafia Criminals: Ilan Tzorya, Werner Boehm, And Elfriede Sixt
Online fraud and financial scams are pretty common nowadays, with criminals presenting themselves as legitimate experts ready to help people make it big in businesses and other investments.
However, most such ventures are fabricated to entrap unsuspecting individuals and defraud them of their hard-earned money as soon as they make deposits into the scammers' fake trading accounts on their websites.
But who are the scammers? A complex network of online fraudsters spearheaded by ILAN TZORYA, WERNER BOEHM, and ELFRIEDE SIXT.
In this article, we'll show in detail how the three cooperated in their fraud arena—from fake trading accounts and scamming investors, the role of EFRI, and the creation of Fintech Academy by Sixt and their criminal lawyer to defraud people in the name of financial training. Read on to discover the little-known facts of Ilan Tzorya's fraud continuum.
The Modern Mafia Criminals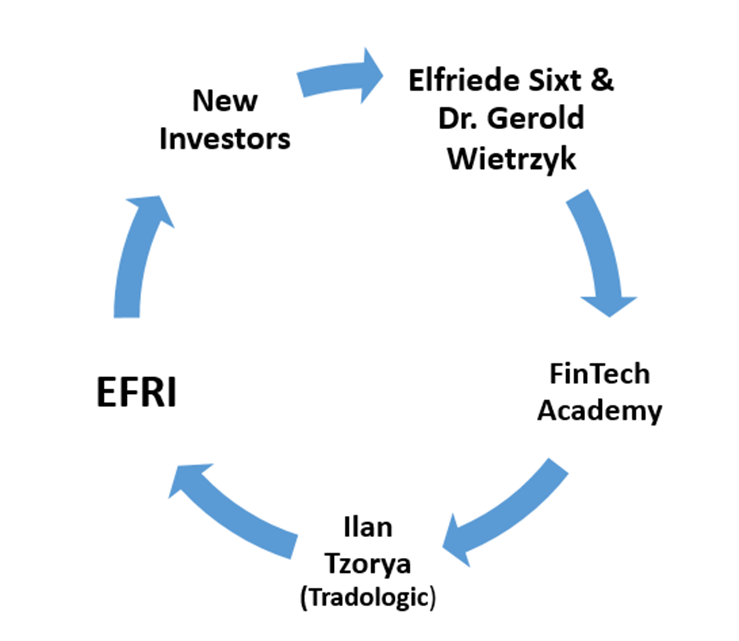 First off, the three iconic fraudsters work on separate entities. Still, for a common goal—they are business partners, trustees and have a common lawyer (Dr Gerold Wietrzyk) who handles the legal side of their businesses.
The three have also been indicted for fraud cases in the past. Ilan Tzorya, for example, has been indicted in large-scale online scams, binary of trade fraud, money laundering, theft, and other absurd crimes that have in the past led thousands of unsuspecting investors into millions to billions of losses.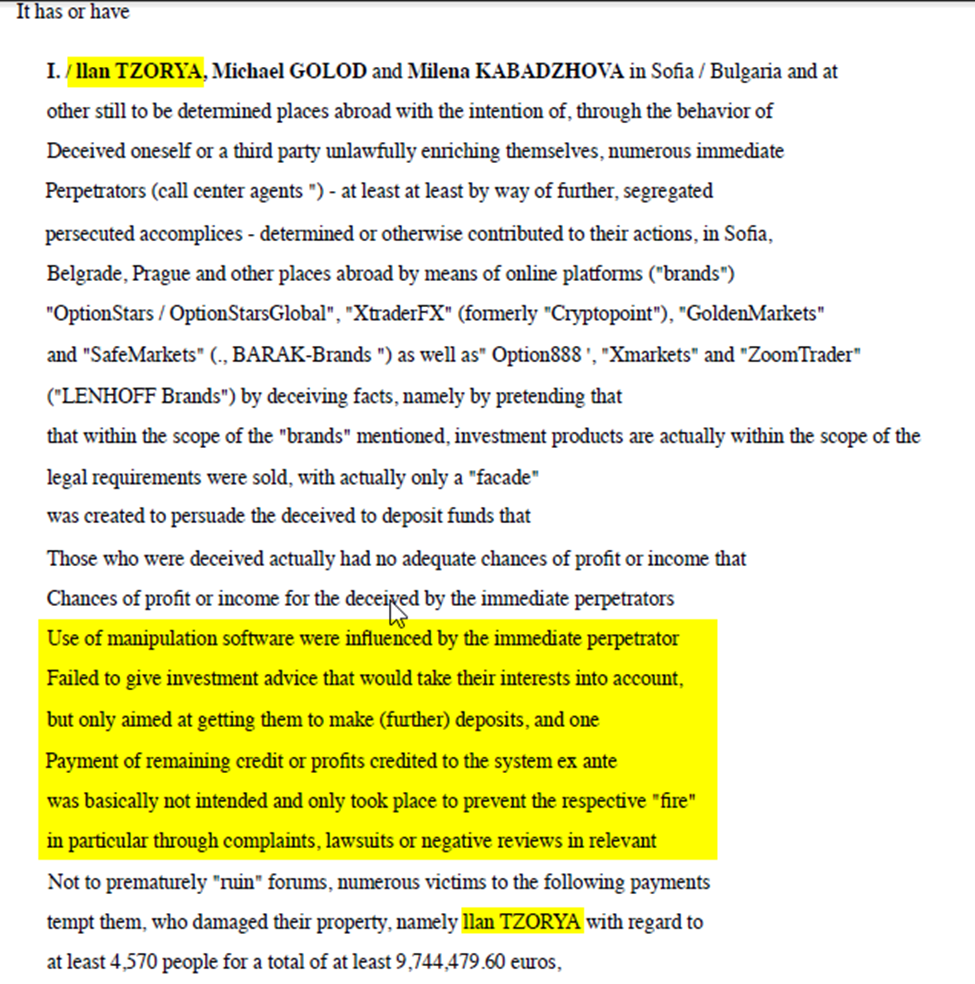 But, the serial criminals don't just stop it there—they make a follow-up on victims and trick them into yet other scams in the name of recovering their loft funds. And where the deals go wrong and the fraud circle is busted, they have a senior counsel, DR. GEROLD WIETRZYK from KWR, who would handle the legal battle. The lawyer represented Werner Boehm and Elfriede Sixt in the YLine Scandle case, leading to their acquittal.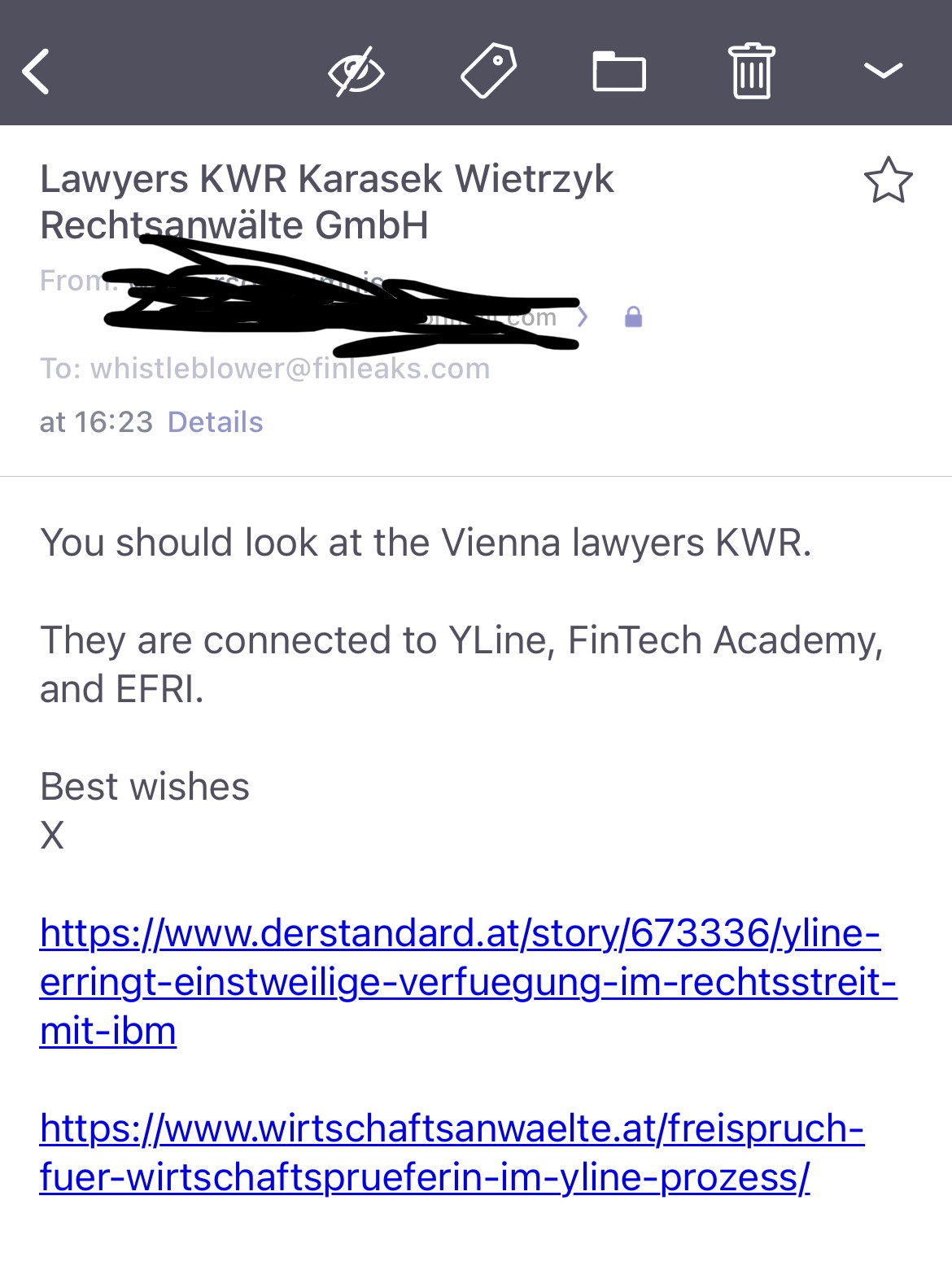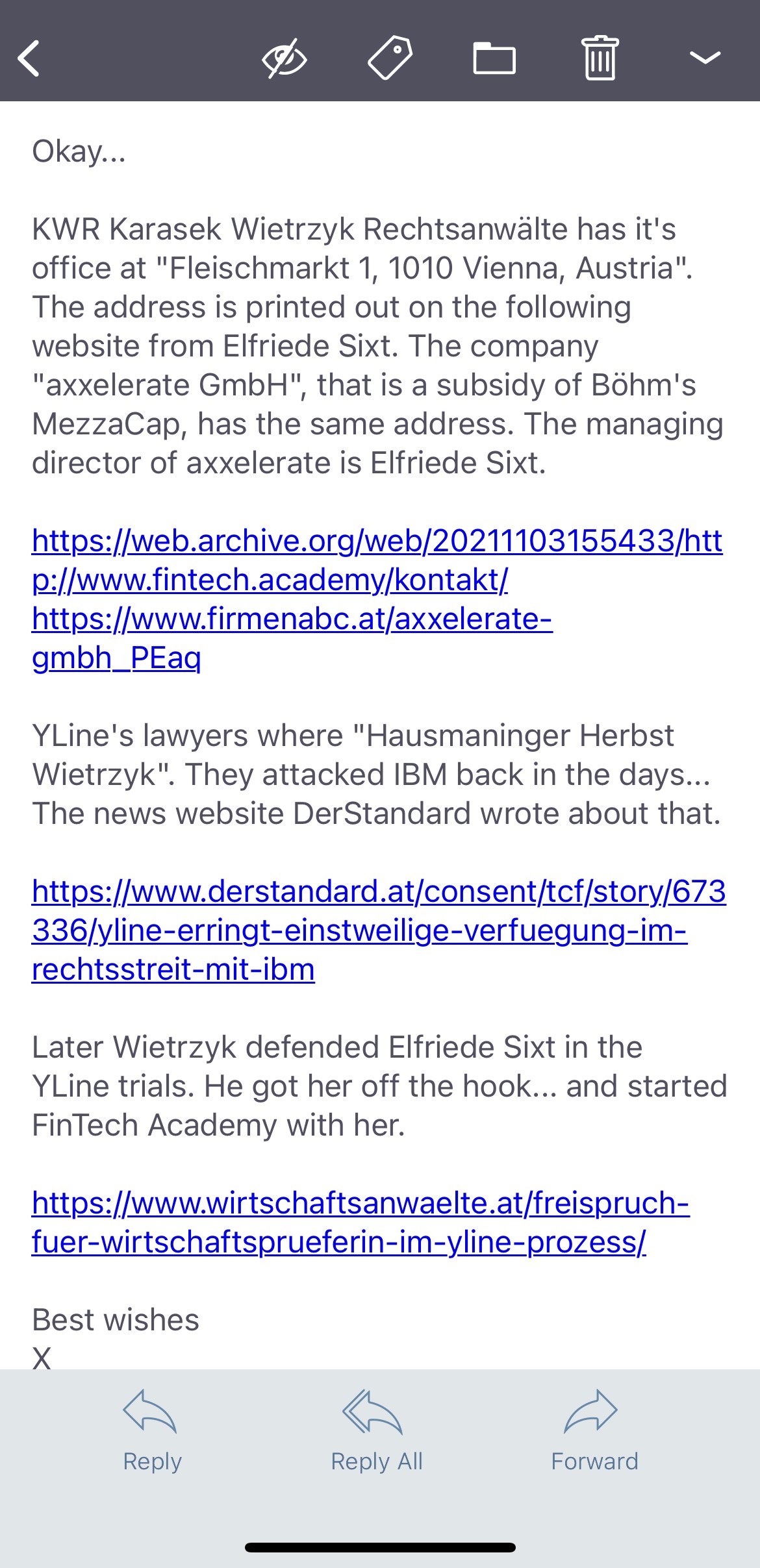 The lawyer currently represents Ilan Tzorya in Austria's white-collar crime around online fraud, money laundering, and binary option trade. The dates for hearing and determination are not yet made public by Austria's Office of Public Prosecutions.
The Continuum of Fraud, Theft, and Extortion: How Does it Work?
The continuum begins at the YLine case, where Elfried Sixt was one of the prime suspects in the Scandal and her life and fraud partner Werner Boehm. With the help of their criminal lawyer Dr Gerald Wietrzyk, Boehm and Sixt were acquitted of the charges and finally released.
After their acquittal, Sixt and Lawyer Dr Gerald Wietrzyk from KWR started the FinTech Academy under the guise of training people how to trade crypto and binary options profitably.
According to the details uncovered by our investigative team, the said academy training was done in the premises of KWR  Karasek Wietrzyk Rechtsanwälte at Fleischmarkt 1/3. Stock in 1010 Vienna based on the revenue share deal between Sixt and Wietrzyk.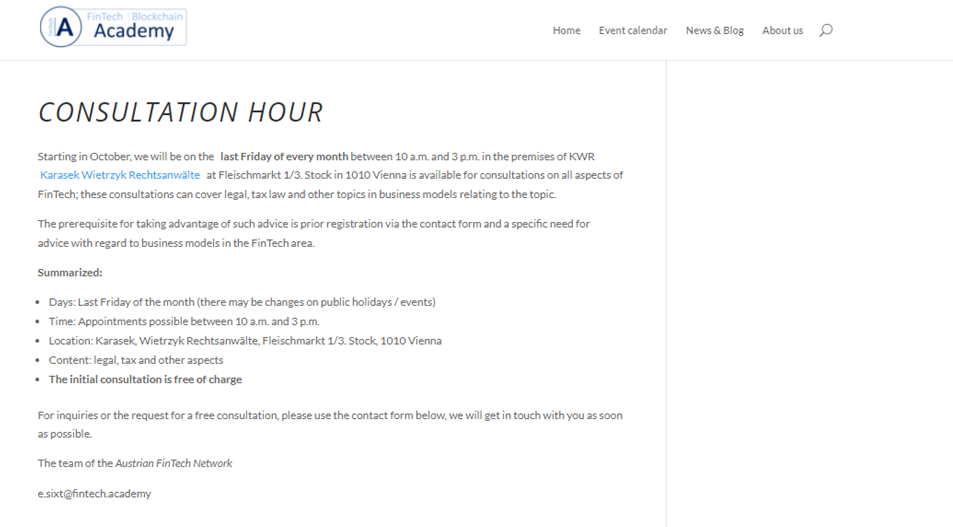 Despite having indicated the legal tax as the main subject of training, Sixt, together with the lawyer posed as "Crypto Experts", "Trading Experts" and other titles of that sort, neither they nor their academy is recognized by any educational body in world, nor they have any education in the fields. Additionally, it had no official training venue, thus using the lawyers' premises.
Besides not being professional trainers, the team of criminals offered bogus and fake training on crypto, binary options trade and forex, fooling the victims into having confidence and believing they have been equipped with the necessary skills to venture into the murkier options markets and make colossal profits. And that's how the victims had their money spent on a flawed training with no real profitable end in sight. After all, the training is a coverup to scam them in the form of fees and give them false hope based on the fallacy told by the scammers.
Once done with the training, the unsuspecting graduates of a flawed training's details are then sold to Ilan Tzorya—a self-proclaimed crypto expert, who would then contact them using his fake brands. And the result is pretty obvious—the victims would entirely lose all the money invested on Tzorya's platform.
Ilan Tzorya—An Israeli-born citizen is a scammer who engineer any software or program as long as it can rake in a colossal amount of money through online fraud, extortion, money laundering, and binary options scams.
Despite hiding behind the scenes and pretending to be in a legitimate business, the self-proclaimed crypto-billionaire is famous for all the wrong reasons. After all, Tzorya is the first person ever to apply for patents for a system that defrauds people, making him the godfather of fraud.
His Tradologic network, systems, and software manipulate his customers' choices in the binary options trade and make them lose their money. In most cases, similar to the one under investigation by joint Austria-Germany prosecutors, only a façade is created simulating real-time options markets.
Tzorya and his associates fish out the investors through hard-to-resist social media and website Ads that make unsuspecting individuals give in and open a trading account. After that, each individual is assigned a 'financial advisor' who would be in turn, pile pressure on the victim to deposit more money and take advantage of some of the options to win their money back in multiples.
According to a report prepared by a joint Austria-Germany team, the money would be wired to Ilan Tzorya's and his associates' accounts with no actual trade taking place. The investors would notice something is wrong after their withdrawal request from the fake online account fails with no alternative option available.
Now, what next for the serial fraudster and the victims of his fraudulent platform? Let's delve deeper.
A Heartless Second Hit at the Victims of Scam Using  EFRI
After scamming the investors using his manipulative Tradologic software, Tzorya shares the database with Elfriede Sixt, the European Funds Recovery Initiative (EFRI) founder, to dupe the victims into yet another trap while pretending to help them recover their money.
EFRI, a shell organization run by criminals up to nothing but a criminal coverup, pretends to empathize with the victims of fraud and lure them into losing even more money without recovering not even a single cent lost in Tzorya's fake binary options trade platforms up to date.
With the clients' database providing all the information about them—from names, location of residence, to the amount lost, Sixt would then launch an email campaign, sending the victims multiple spam emails from EFRI, deceiving them how EFRI would help recover their money from either the fraudster or relevant authorities.
Desperate to recover their lost money, the victims would reach out to EFRI, hoping to get their money back. The team of fraudsters would again request a legal fee for the victim's case to be filed on their behalf.
Sounding somewhere reasonable and legitimate, the victims would choose to pay the money with the hope of getting their huge chunks of money back. However, this would later become a nightmare for the victims as no money is recovered, and the legal fee goes down the toilet.
The method explained above is a typical process Ilan Tzorya and his associates, Werner Boehm, Elfriede Sixt, use to scam innocent people three times in a cycle using their elaborate schemes. When done with a group of people, they lure others into the same trap and scam them multiple times.
Warn a friend to warn a friend and save the community from falling into these scammers traps.