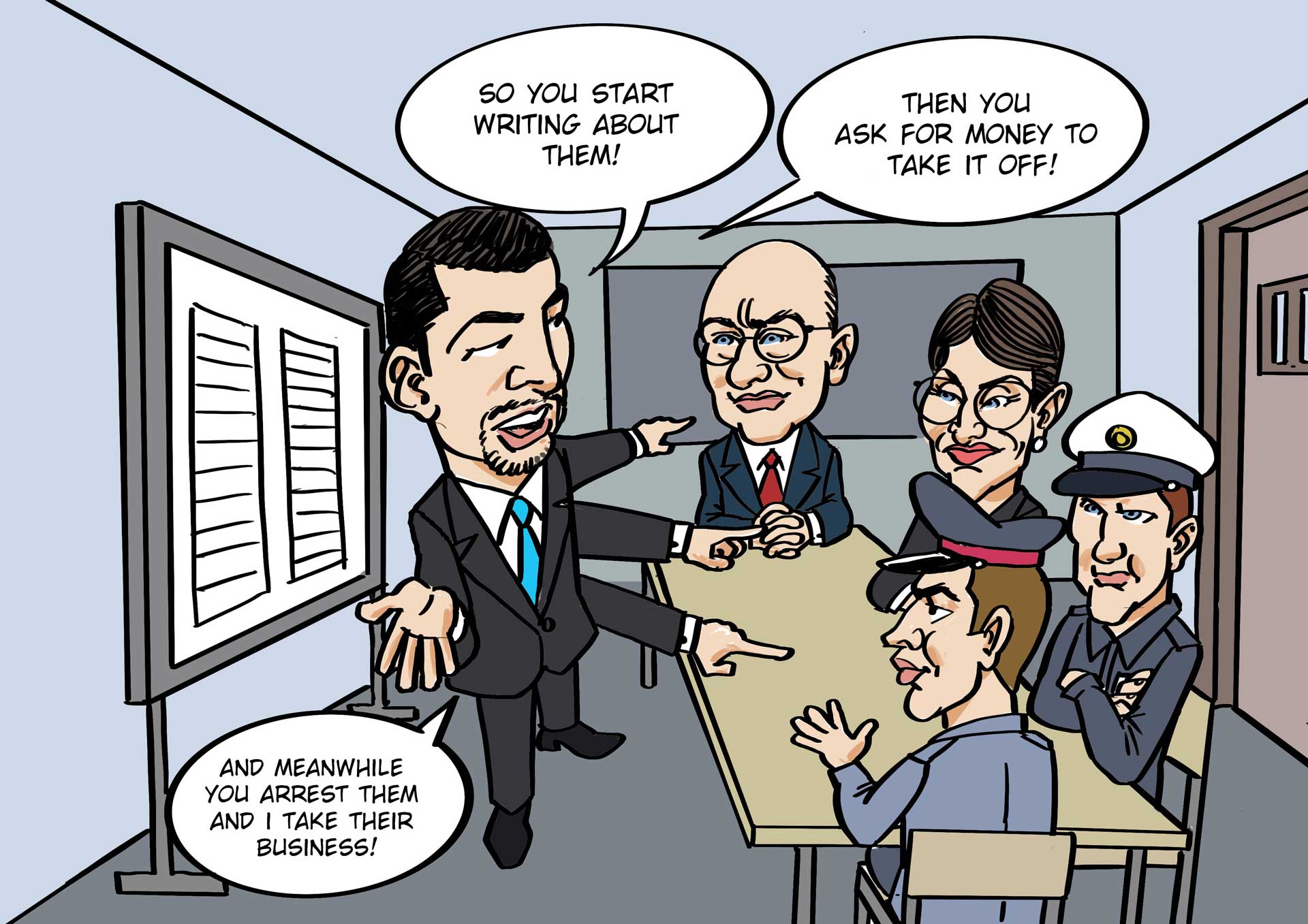 Criminal Enterprise: Serial Criminals Behind Werner Boehm's FinTelegram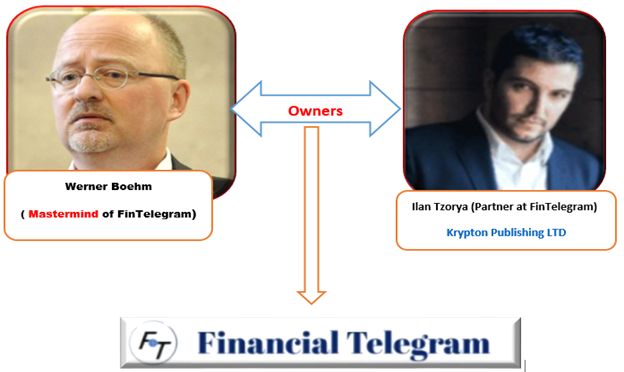 FinTelegram, a site many believed to be offering financial intelligence, has turned out to be nothing but a criminal enterprise. From its criminal mastermind, Wener Boehm, to other partners and secret operatives, the group is up to no whistle-blowing on financial scams but fraud and extortion of the highest caliber.
After all, Werner Boehm and his partners running the crazy syndicate have been at least once convicted of fraud, money laundering, illegal transactions, or online financial scams related to crypto and binary options trading. While the FinTelegram News blog poses an "investigative media providing financial intelligence to fight scams," this is a hoax meant to fool unsuspecting individuals into believing them.
Based on our investigations and information from reliable sources, FinTelegram, a famous website for making shocking expose, is owned by three convicted criminals: Werner Boehm, Elfriede Sxt, and Alfred Dobias. Beyond any reasonable doubt, this is the same gang convicted in a Canadian court back in 2017, after their dirty dealings and attempts to defraud the BirtRush company was botched.
The famous BitRush scandal led to a shameful ousting of the criminal Boehm by the company's board of directors, followed by a press release and a warning to the shareholders about an investment scam run by Werner Boehm. And in about a year after the scandal, Boehm and his criminal team devised another fashion of fraud through FinTelegram, pretending to offer financial intelligence and expose scams. However, this was nothing near the truth and motive behind the creepy news blog. Instead, the site was brought to life to offer criminals cover-ups and become an effective vehicle for fraud, extortion, and blackmail endeavors.
Despite being the mastermind, owner, and editor in chief, Boehm distanced himself from the role in the public domain and pretended to be just a mere contributor, he took up the roles with seriousness behind the scenes to intimidate and extort huge chunks of money from high profile people who fear getting their names and companies tarnished.
Although Boehm and his partner Elfried Sixt pose as contributors at FinTelegram, our investigations reveal that Boehm is the news outlet's chief editor, CEO, and mastermind who created the blog for his new way of criminality. His partner, Sixt, runs the company's operations in coordination with Boehm.
Our investigations also reveal Alfred Dobias, who also poses as a partner, is Boehm's right-hand man. And from the sources close to the business, Dobias holds the company's assets on behalf of Boehm since the company's founder cannot hold anything for himself due to his criminal record and debts that might lead to confiscating his assets.
According to reliable sources, Boehm also owes Austria authorities close to 1 million euros in tax. However, he was lucky not to have been sentenced for the same.
Dark Forces behind FinTelegram
Unlike other investigative news sites with reputable teams of professional journalists working on different projects and assignments, FinTelegram is quite different. They don't seem to have a professional team to handle the investigations around the alleged scandals they publish. Instead, they have an anonymous list of writers whose names do not reflect their actual identity.
The blog's writers had very little non-substantial biographical information with no real images that could be traced outside the blog. Since its startup in Aug. 2015, the blog could not be reached via any means, considering that even the contact form on the blog was inactive.
Now, how do they gain access to some of the critical pieces of information? Perhaps you may ask. Most of the articles published on the FinTelegram News blog are written by Werner Boehm, exposing his former partners while distancing himself after bitter fallout. Other pieces are outsourced from their readership and agents of blackmail.
Now, who is operating behind the murkier blog? Let's get to the shocking truth behind the darker forces running behind-the-scenes shows at FinTelegram. According to our investigations, the ill-missioned news outlet is entirely run by a sophisticated network of fraudsters and extortionists who've been operating international scams for years from various nations. Founded by Werner Boehm and his partner Elfriede Sixt, further investigations show that FinTelegram reports directly to British Authorities. This is the main force operating the company behind the scenes. FinTelegram identifies the authorities as persons with significant control (PSC) of the news outlet.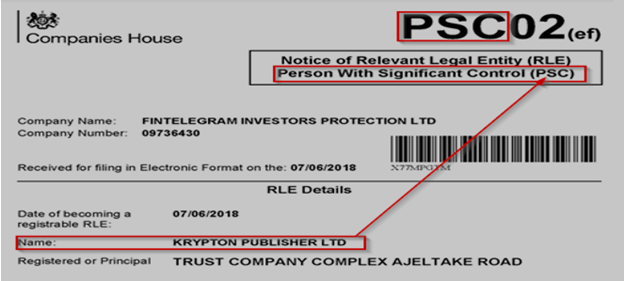 One of the notable companies behind the scenes is Krypton Publishing LTD. The company operates as a one-person show of a famous cybercriminal Ilan Tzorya. It's noteworthy that Krypton is one of the largest entities controlling Fintelegram, with a stake of more than 25% in the company.  
So, who is Ilan Tzorya
Ilan Tzorya is an Israeli-born serial fraudster with a streak of breath-taking international criminal activities that have made him famous in today's world. In our criminal investigations, Tzorya was part of the Blu Bit Banc (BBB) Scam, which handed its CEO, Blake Kantor, a seven-year jail term and was ordered to pay $800,000 to the victims by a New York judge in 2019. However, Tzorya safely maneuvered through the storm without paying a heavy price.
The Israeli-born fraudster is known for his ability to convince his victims with eloquence and good manners, making them believe the dirty deals are legitimate. Tzorya is also known for his ability to outsmart prosecutors using complex strategies and leaving his partners paying for his fall despite being the mastermind with the largest stake in the scams.
Tzorya has been the stem of every scam involving his behind-the-scenes Tradologic network suspected by German prosecutors of running over 400 scammy websites worldwide. Being the owner of the fraudsters network, Tzorya lured Gal Barak and Uwe Lenhoff separately into becoming part of his Tradologic fraud network, owning multiple brand names under the Barak and Lenhoff while still under his Tradologic umbrella.
However, after the deals were busted, the two partners were indicted, bearing the heavy price, and making Trozya look like an ordinary participant. And later surrendered the two to his partner's news Tzorya has been inventing every new way to get away with scams and look clean. Tzorya has been using FinTelegram to send all the blames to Barak and Lenhoff while distancing himself from the crimes he engineered.
Over the past years, Tzorya has been involved in extremely dangerous crimes with his criminal partners from Israel, Romania, Bulgaria, Austria, and other parts of the world. He has also been suspected of multiple crimes, ranging from theft, money laundering, extortion, and binary options across the globe.
According to an official document from the public prosecutor's office, Ilan Tzorya is suspected of scamming at least 4,570 people for at least 9,744,479.60 euros, 149,409.82 USD, and 3,050.00 GBP. Alongside Tzorya, the Austrian prosecutor's office has singled out two other criminals involved in business with Tzorya.
Michael Golod is suspected of having scammed at least 4,232 people in a total amount of at least 9,397,815.60 euros, 149,409.82 USD, and 3,050.00 GBP, and Milena Kabadzhova is suspected of defrauding at least 4,403 people for a total amount of at least EUR 9,660,002.60, USD 152,496.82, and GBP 3,050.
Our investigations have revealed, Ilan Tzorya is one of Boehm's partners at Fintelegram, having significant control of the company. Being convicts of largescale fraud cases, theft, and scams around binary options, Tzorya and Boehm use the online media outlet to further their criminal acts in a new fashion.
Tzorya lured Barak and Lenhoff into propagating scams with him and later exposed them to the world through FinTelegram as the authors of fraud while distancing himself from the same scammy brands he holds 50% of the stake.
Stay put for our next article and get the breaking details on Werner Boehm and Ilan Tzorya's partnership in crime, using FinTelegram as a vendetta machine for heaping all the blames to their former partners while keeping clean. Despite Tzorya being the mastermind in all the fraud and scams that Barak and Lenhoff got indicted in, his name is rarely mentioned on FinTelegram since he has significant control of the website.